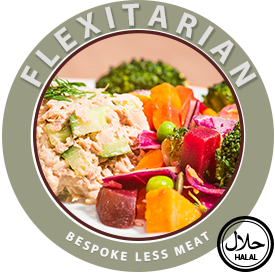 Checkout Our Brand NEW Halal Bespoke Range
Custom calorie levels that adjust as you lose weight
Less stress with just one delivery needed each week
Over 100 delicious new recipes
Reduction in packaging
New Picture Based ordering system
We cook everything ready to just heat and eat
Deliveries made each Sunday
Book Between 1-7 days each week or choose one of our new 5 Day working week diet plans.
Our new Bespoke Range also comes with your own personal diet plan consultant who will get your plan just right before you start!
Halal Flexitarian Diet Plan
Healthy, delicious and environmentally friendly, a halal flexitarian diet can expand your lifespan while letting you do your bit to keep the planet healthy too!
Whatever you're looking for, whether it be chicken dishes or delicious desserts, this plan has it covered. This meal plan is packed with fruits, vegetables, legumes, grains, seeds and nuts to cover all bases in addition to keeping you feeling fuller for longer. Our flexitarian total eating plan is meat-free with lots of tasty, nutritious, plant-based dishes, but as with all Bodychef diet plans, they're personalised to you! There are lots of meat and fish dishes you can add in at your discretion, just log in and personalise to your tastes!
You'll also find a range of home-made desserts and snacks to keep your energy levels up throughout the day and satisfy your sweet tooth at night. Go flexitarian today! Sign up now or contact us for more information.