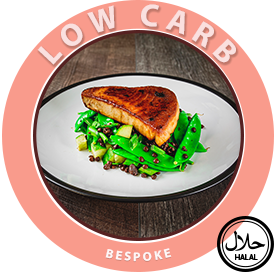 Checkout Our Brand NEW Halal Bespoke Range
Custom calorie levels that adjust as you lose weight
Less stress with just one delivery needed each week
Over 100 delicious new recipes
Reduction in packaging
New Picture Based ordering system
We cook everything ready to just heat and eat
Deliveries made each Sunday
Book Between 1-7 days each week or choose one of our new 5 Day working week diet plans.
Our new Bespoke Range also comes with your own personal diet plan consultant who will get your plan just right before you start!
Halal Low-Carb Diet Plan
Here at Bodychef, we provide a halal low-carb diet plan to help you lose weight and feel great! One of the most effective ways of speeding up weight loss is to reduce the amount of carbs in your diet while increasing your protein intake. This is why our halal low-carb diet plan is so successful! The protein and healthy fats boost your metabolism and promote weight loss. Not only will you lose weight, but you'll also maintain a nutritionally balanced, filling and delicious diet at the same time.
Each day, our halal diet plan provides you with around 100g of carbohydrates including forms of fruit, vegetables, whole grains and dairy products. We've selected the best and left out the rest, leaving you with tasty halal meals every day of the week.
Our halal low-carb diet plan is ideal for shedding the pounds in a controlled way with proven weight loss results.
If our halal low-carb diet plan sounds like the answer to your weight loss requirements, sign up today or contact one of our helpful team members for more information.