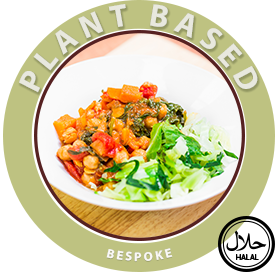 Checkout Our Brand NEW Halal Bespoke Range
Custom calorie levels that adjust as you lose weight
Less stress with just one delivery needed each week
Over 100 delicious new recipes
Reduction in packaging
New Picture Based ordering system
We cook everything ready to just heat and eat
Deliveries made each Sunday
Book Between 1-7 days each week or choose one of our new 5 Day working week diet plans.
Our new Bespoke Range also comes with your own personal diet plan consultant who will get your plan just right before you start!
Halal Plant Based Diet Plan
Our plant based diet plan is halal friendly and is ideal for those hoping to lose weight and improve their health. All while enjoying delicious plant based meals and recipes!
Whether you've decided to follow a plant based diet for weight loss or health, it doesn't have to be a bland diet! With delicious foods and plant based cuisine, you'll enjoy every meal. The range of delicious, filling meals in this plan make it an easy weight loss diet plan to follow.
Our Plant Based Diet Plan focuses on whole foods, providing your body with the essential nutrients it needs. You won't find any meat or animal products in this plan. You'll enjoy plenty of high-fibre, low-fat meals to support good health and high energy levels whilst also controlling your hunger. 
More and more people are adopting a plant based diet as a way to improve their health and slim their waistlines. The benefits of basing your diet around vegetables can be significant.
What Can You Eat When Following A Plant Based Diet Plan?
Plant based diets include lots of vegetables, pulses, fruits and nuts, you won't find any meat, dairy or eggs though! A plant based diet is more than a meat-less way of eating however, it's about eating a fresh, natural diet full of vitamins, minerals and phytonutrients!
Can You Lose Weight With A Plant Based Diet Plan?
You definitely can! A plant based diet is naturally low in fat and high in fibre, promoting fullness, weight loss and improved cardiovascular health. We make sure you consume enough protein and other nutrients for good health, all provided in ready-to-eat meals tailored to your calorie needs!
If our Halal Plant Based Diet Plan sounds like the one for you, then call us now or click 'get started' below to personalise your diet plan.