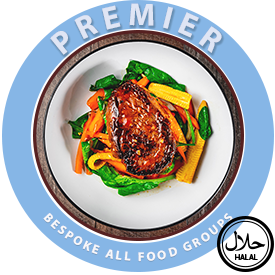 Checkout Our Brand NEW Halal Bespoke Range
Custom calorie levels that adjust as you lose weight
Less stress with just one delivery needed each week
Over 100 delicious new recipes
Reduction in packaging
New Picture Based ordering system
We cook everything ready to just heat and eat
Deliveries made each Sunday
Book Between 1-7 days each week or choose one of our new 5 Day working week diet plans.
Our new Bespoke Range also comes with your own personal diet plan consultant who will get your plan just right before you start!
Halal Premier Diet Plan
Bodychef's Halal Premier Diet Plan is great for those looking to lose weight whilst still enjoying delicious meals every day. You'll find a whole range of delicious meals, snacks and desserts, in our Halal-certified Premier Diet Plan. You'll enjoy everything from curries and stews, to salads and desserts, all prepared for you. And there's no need to worry about your calorie intake either as Bodychef's Halal Premier Plan is available from 1,000 to 3,500 calories, depending on your personal preference.
This plan is also packed with high-protein, low-fat meals to help suppress cravings and keep your energy levels high. You don't have to feel guilty while enjoying your delicious desserts, including warm chocolate brownies, mouth- watering raspberry tray bakes and freshly-prepared, hand-cut fruit salads, because they're all part of the truly delicious Bodychef Halal Premier Diet Plan. If this sounds like the ideal plan for you, then sign up now or contact one of our expert team today for more information.